"Liliuokalani- Reflections of Our Queen"
 – Selected scenes, presented (June &  Sept 2018) by New York Botanical  Garden theatre with Georgia O'Keeffe Hawaii exhibit and Iolani Palace gowns on exhibit.
Georgia O'Keeffe, Hisbiscus with Pulmeria 1939, Smithsonian American Art Museum / ARS
2018 Telly Award Silver (Doc film History) & Bronze (Doc film Biography) " Liliuokalani"
March 10, 2015
HPA Round Table


Hawaii Governor Neal Abercrombie bio pic,  "Bucket Full of Stars".
Waimea Ocean Film Festival – Selection
September 19, 2014
Hosted by U.S. Army Corps
Paniolo film screens in Waikiki at Fort Shafter
Appearance by guest premiere Saddle Maker, Keith Ryder
January 2-10, 2014
Waimea Ocean Film Festival
Kohala, Big Island
Open to the Public
October 26, 2013
Paniolo Preservation Society
Waimea, Big Island
International FIlm Festival will screen "Paniolo O Hawaii" and
"The Hawaiians – Reflecting Spirit" in multiple screenings
(times tba) and q&a with filmmaker.
The Paniolo Heritage Dinner & Auction is this year's biggest fundraising event for the Paniolo Preservation Society and is set for Saturday, October 26th. This is a opportunity for ranchers and community leaders to show their appreciation for our noble paniolo heritage by supporting the continuing mission of Paniolo Preservation Society and the Paniolo Heritage Center at Pukalani Stables. It's also going to be a lot of fun, a great meal and a grand ol' time for everyone. In celebration of the Ranches and Paniolo Heritage of Hawaii, the Board of Directors of the Paniolo Preservation Society cordially invites you to thePaniolo Heritage Dinner and Auction, October 26th, 2013 from 5:30pm to 10:00pm. This year our honored guest will be Edgy Lee, noted filmmaker. This fundraising event will take place at the Paniolo Heritage Center at the historic site of Pukalani Stables, Parker Ranch. The price is $150 per person or $1500 per table of 10 persons. The evening will include ranch sponsored tables with paniolo pupu, hosted bar, dinner, live auction, dancing and live entertainment. Attire is Cowboy Cocktail – leave your spurs at home. Reservations are required. For more details call 808.854.1541 or email at paniolo@paniolopreservation.org
September 20, 2013
Paniolo O Hawai'i
Coffee Talk
Paniolo O Hawaii – Cowboys of the Far West"
with director Edgy Lee
Show starts at 8:00pm.
September 20, 2013
Keynote Speaker:
Imagine a Perfect World
Paniolo Preservation Society – First Honorary Director for Life
Hawaii State Senate Special Artist's Recognition  Oct 2013
Keynote Speaker: "Gaining Knowledge, Losing Wisdom?",
Delta Chapter of Beta Beta State Fall Workshop (Women Educators)
Sheraton Waikiki – Lanai Room
Members Only
Keynote Speaker: Honolulu Rotary Club
Royal Hawaiian Monarch Room
11:30am – 1:30pm
Members Only
Library for the Blind
Waialae Country Club
Edgy Lee is the Keynote Speaker.
By Invitation Only from 11am – 2pm.
For information about volunteering to read for the organization call (808) 732-7767
Kualoa Ranch Country Fair
Kualoa Ranch
Paniolo O Hawaii film screens outdoors at the Kualoa Ranch "Country Fair".
8:30am – 9:00pm 
May 21, 2012
ICE, Hawaii's Crystal Meth   Epidemic | Screening and discussion
The ARTS at Marks Garage hosts Hawaii Filmmakers Showcase Sundays. On May 21, Hawai'i Women in Filmmaking presents: "Meet the Filmmaker with Edgy Lee.  Edgy a filmmaker, producer, composer and author) will introduce her film ICE, Hawaii's Crystal Meth Epidemic.
The screening will be followed by a conversation with A. Johnson, Hawaii Substance Abuse Coalition and Hina Mauka CEO, Debra Kissinger, D.O. Ph.D. UH Medical School, A. Shinn, Coalition for Drug Free Hawaii, and Bim Strausser, Hina Mauka Psychiatrist.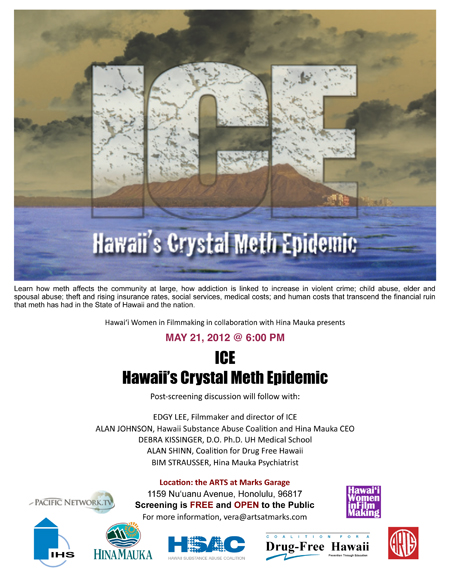 January 15, 2012
Panilolo O Hawaii
Surfer, The Bar @ Turtle Bay Resort
Hawaii Filmmakers Showcase Sundays:
"Panilolo O Hawaii – Cowboys of the Far West" with director Edgy Lee
Doors open at 6p – Show starts at 6:30p
Admission $10 | Kama'aina $8 | Keiki (16 and under) $5
Edgy Lee has constructed an entertaining and informative history of the paniolo's (cowboys) who developed into a close knit and skilled group of proud tradesmen, who exist even today.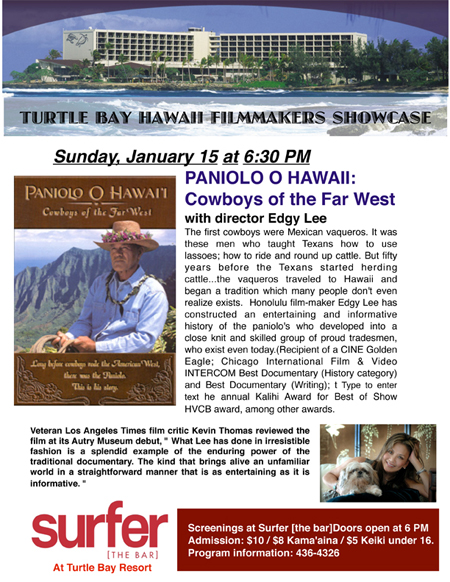 Hawaii Filmmakers Showcase
@Surfer, The Bar at Turtle Bay Resort
Sundays:
"That First Glide" with director Mike Waltze.
Doors open at 6p – Show starts at 6:30p
Admission $10 | Kama'aina $8 | Keiki (16 and under) $5
The Sport of Stand Up Paddle seems to have popped up out of nowhere but the truth is, the sport has deep roots in the both early Polynesian and Hawaiian history. Filmed in Hawaii, Fiji and Tahiti, this film is a must see for everyone and features premier athletes that got the sport off the ground.
TEDX Honolulu
Cupola Theatre
Registration for attendance prior to event. Limited to 100 guests. @TEDxHonolulu@HTDCorg it's actually too late to register to attend LIVE, however please join TED.com online LIVE at: livestream.com/tedx2 
Edgy is a featured speaker at the first TEDx Honolulu event on 11.11.11, at Cupola Theatre. TED is a nonprofit devoted to "Ideas Worth Spreading". It started (in 1984) as a conference bringing together people from three worlds: Technology, Entertainment, Design. Since then its scope has become ever broader. Along with two annual conferences each spring, and the TEDGlobal conference in Edinburgh UK each summer — TED includes the award-winning TEDTalks video site, the Open Translation Project and TED Conversations, the inspiring TED Fellows and TEDx programs, and the annual TED Prize.
TEDx was created in the spirit of TED's mission, "ideas worth spreading." The program is designed to stimulate dialogue through TED-like experiences at the local level. At TEDx events, a screening of TEDTalks videos — or a combination of live presenters and TEDTalks videos — sparks deep conversation and connections. Attendance is by invitation only but you may apply for invitation to the event at http://tedxhonolulu.org/register-to-attend/
TEDxHonolulu 2011 Official Program
APEC commissioned short film by China delegation (Zhou En Lai Peace Institute) 
September 30, 2011
5:00 – 7:30pm
Viewpoints Film Series
Hawaii Pacific University, Warmer Auditorium
Screening and Q&A with filmmaker and founder of Pacific Network.tv, Edgy Lee.
May 9, 2011
11:00AM – 1:00pm
Keynote for Organization of Women Leaders
Pacific Club
Edgy introduces Pacific Network.tv and discusses current film, How We Learn, a feature documentary production on the fascinating history of how we educate or share our wisdom, knowledge, and family traditions.
April 27, 2011
6:30p – 8:30p
Women in Filmmaking
Mark's Garage
Women in Filmmaking is an artists collective based in Honolulu, Hawaii that provides mentoring, peer support, and a place for women filmmakers to do work-in-progress screenings and discussions of their work. It is a community of filmmakers sharing their experiences and expertise in a safe and creative space. This series invites a few of Hawaii's women filmmakers to keynote in an informal q&a atmosphere.
Showing film excerpts and q&a with audience
Artist in Residence Special Presentation
Volcano National Park
Edgy will present "The Hawaiians Reflecting Spirit" in part shot on location at the park. Join us for an evening with the filmmaker.
Hotel accommodations available contact:
At the Crater's Edge, Volcano Guest House (808) 967-7775
TOLL FREE: (866) 886-5226
Naniloa Volcanoes Resort 808. 969. 3333 or
www.hottours.us
3rd Annual Waimea Film Festival
Waimea Theater
On behalf of the Waimea Businessmen's Association and Thomas Nizo, Director of Waimea Heritage Days, the public is invited to attend the 3rd Annual Waimea Film Festival on Monday, February 21, 2011. (http://www.wkbpa.org/events.html) featuring two films by Edgy Lee.

This independent film festival showcases local documentaries and the work of filmmakers with ties to Hawai'i. Professionals such as Eddie Kamae as well as amateur filmmakers like Ke Kula Ni'ihau o Kekaha Public Charter School have shared films on saltmaking in Hanapepe. The Historic Waimea Theater is unique to Kaua'i in its day-long festival.
waimeaheritagedays@gmail.com

Street Address: 9691 Kaumualii Highway, Waimea, Kaua'i, Hawai'i 96796
808.246.8727 office
www.waimeatheater.com
Lecture on "new media", hosted by Prof. Don Price
University of Hawaii – Hilo campus
Cinema Italiano, Annual Film Festival, Juror
Kahala Hotel & Resort
May 22, 2010
6:45 pm
(6pm Doors Open)
Paniolo O Hawaii – Cowboys of the Far West
Waimea Valley Pikake Pavilion

General Admission $10, Keiki $8.
Special Food & Beverage menu created by Waimea Valley Grill.
North Shore Paniolo welcome! Uncle Albert Silva to introduce the film and filmmaker, Edgy Lee, who will sign DVD copies before and after screening of Paniolo O Hawaii – Cowboys of the Far West. Portion of all proceeds benefit Waimea Valley.
Sponsored by Waimea Valley, Hawaii Tourism Authority, Hi Ipaka LLC
808. 638.7766
March 27, 2010
8:30am – 4pm
The A to Z of Documentary and Non Fiction Video Production
Kona, Big Island
Professionals & Non Pros workshops.
Advanced registration advised $35/fee $20 students. Lunch
Contact John Mason, Big Island Film Ofice 808-327-3663
On Saturday, March 27 acclaimed filmmaker Edgy Lee will lead an impressive line-up of Oahu and Big Island documentary producers for an all day workshop, "The A to Z of Documentary and Non-Fiction Video Production." The program will take place at the University of the Nations in Kailua-Kona, with registration beginning at 8:30 am. The aim of the seminar is to cover many of the important aspects making documentaries: development, fund raising, production, editing, marketing and distribution.

Edgy Lee is one of the state's most accomplished filmmakers with experience as a writer, producer, and director who has accumulated a long list of credits throughout her award-winning career. She will kick off the day with an overview of how to produce programs for national audiences. Her presentation will focus on development, fundraising, content, and new media. She will discuss her pioneering enterprise, the Pacific Network, an internet television network with nine channels of programming.

The challenges and protocols of "Physical Production" will be covered by Keith Nealy and Willy Navarro, head of the School of Digital Filmmaking at the University of the Nations. Both of these accomplished filmmakers are based on The Big Island. Keith has focused on producing films that take their inspiration from Hawaii's rich cultural and historical landscape. He is currently working on a documentary, "Kindy Sproat: A Gift from the Heart," one the island's most beloved musicians and storytellers. Willy Navarro is a producer, director, and writer who has shot news stories and documentaries in over 30 countries. He has covered such diverse topics as street kids in Brazil and hurricane relief in Honduras.

Filmmaker Marlene Booth will cover aspects of "Editing and Post-production", rights management, clearances, and intellectual property rights issues. Her latest documentary, "Pidgin: Voice of Hawaii," won the audience award in documentary filmmaking at the recent Hawaii International Film Festival. Broadcast on the local PBS channel, her work has earned her a CINE Golden Eagle, an Emmy nomination, and a Bronze Apple award from the National Educational Film and Video Festival.

Oahu filmmaker Gerard Elmore and Mericia Palma will end the day with an overview of the "Marketing and Distribution" of documentaries, with a special emphasis on non-traditional methods of marketing and distribution. Gerard is the current host of "Hawaii Reel Stories" on cable channel OC 16 and his latest project, an independent feature film, "All for Melissa," has received national distribution. Mericia Palma is the founder of a content creation and marketing company, Left of Center, that helps media artists create, produce, and market their work. She co-produced "All for Melissa," and led the national distribution effort.

A panel discussion with all of the workshop speakers will conclude the day. This "not to be missed" seminar is targeted at media professionals looking to gain greater insight and practical knowledge about producing documentaries at a high level, and to network with others on collaborative projects. Students serious about digital media and production should also attend to upgrade their skills and meet working professionals.
February 8, 2008
1:00 – 3:00pm
Honolulu Community College
Building 2, Room 201

February 15, 2008
12:30 – 3:00pm
Hawaii Community College
Manono, Campus Cafeteria

February 28, 2008
1:30 – 3:30pm
Leeward Community College
Room GT-105

February 29, 2008
1:00 – 3:00pm
Windward Community College
Akoakoa 101-105

March 7, 2008
Time: TBA
Maui Community College
Room: TBA

April 4, 2008
1:00 – 3:00 pm
Kapiolani Community College
Ohia 118

April 11, 2008
2:00 – 4:00pm
Kauai Community College
Electronics Tech Bldg, Room 114