Liliuokalani – Reflections of Our Queen
USA Color, English w/ some subtitles. TRT 76 min.
"In a memorable moment, as Lili'uokalani crosses the vast continent by train to lobby on behalf of Hawaiian independence in Washington, she muses on why big America needs little Hawai'i. Lili'uokalani is seen as a thoughtful, compassionate individual passionately devoted to music, championing children and her Hawaiian people." The Hawaii Movie & TV Book — 100 Years of Film Production, Ed Rampell
Liliuokalani would have been an exemplary woman for any time period, but given hers was the Victorian era when the written Hawaiian language was only twenty years old at the time of her formal schooling, her accomplishments were extraor-dinary. She founded a women's savings bank and a women's micro-financing lending group. She was the first composer in Hawaii to secure music copyrights and in two languages. She notated her own music, was the first nationally pub-lished Native Hawaiian female author, patron to 150 young girls for educational scholarships during her lifetime, and the last reigning monarch of the Kingdom of Hawaii. This film provides a rare glimpse into the private life of Queen Liliuokalani via her personal writings, lyrics, and early 20th century remembrances shared by people who knew her and families who inherited first person stories of the Queen.
Awards and honors include: National 2018 Silver Telly (Non-Broadcast History), 2018 Bronze Telly (Non-Broadcast Biography)
Liliuokalani – Reflections of Our Queen
The Hawaiians – Reflecting Spirit
USA Color, English w/ subtitles for Hawaiian language. TRT 58 min.
USA Color, Japanese language & Japanese subtitles. TRT 30 min.
" Edgy Lee paints the spirit of Hawaii – recreating its past but most importantly, the revival of spirit of a native people and their commitment to reviving their heritage." Variety, Army Archerd
An early version opened at the unveiling of the Smithsonian Museum of the American Indian in Washington D.C. Offering important cultural insights into who the Hawaiian are as a people, their origins, historical challenges and current social conditions, the film pays tribute to the spirit of a native people whose identity is intrinsically tied to their Hawaiian lands. The Hawaiians won rave review by veteran critic, Army Archerd (Variety), and was covered in the book, "Pro-gressive Hollywood, A People's Film History of the United States", by Ed Rampell, who places Edgy alongside leading documentary filmmakers such as Oscar winners Errol Morris ("Fog of War"), Morgan Spurlock (Super Size Me"), Robert Greenwald ("Outfoxed") and Michael Moore ("Farenheit 9/11"). Rampell adds, "a film by Hawaii's greatest local filmmaker… The Hawaiians is a film of transcendent splendor that defends Native rights and culture." Scenes include inter-views with a native healer, a Kauai 7th generation salt maker; celestial navigator, Nainoa Thompson, Hawaiian kumu hula and performer, Kealii Reichel; the late Senator Daniel Akaka, and others. Produced and Directed by Edgy Lee, Co-written by M.J. Harden and Edgy Lee, original soundtrack by Robert Wehrman PhD., Director of Photography, Ruben Carillo.
Awards and honors include: the national preview at the opening of the Smithsonian National Museum of the American Indian.
The Hawaiians – Reflecting Spirit DVD
.
Paniolo O Hawai'i – Cowboys of the Far West
USA Color, English. TRT 59 min.
" Filmmaker mines unexpected history…" USA today
"Lee has illuminated a little known facet of the Old West, Pacific Rim style"
San Francisco Examiner
"Done in tremendous fashion…a splendid example of the enduring power of the tradi-tional documentary." Los Angeles Times, Kevin Thomas
This award winning feature documentary redefines our childhood notions of Cowboys and Indians and the Great American West. In this beautifully crafted movie, the Cowboys are the Indians. Hawaii's Paniolo preceded the American Cowboy but their story remains virtually unheralded in frontier history. The film honors the men and women who learned much of their riding, roping, and saddle making from the great vaqueros of Alta California. Rare footage, clips of "shipping cattle" in the 1920s, Will Rogers at Ulupalakua Ranch, appearances by Maui resident, Willie Nelson; cowboy songsters Kindy Sproat, and Michael Martin Murphey.
Awards and Honors include the Chicago FIlm Festival (Best Documentary History and Screen-play), CINE Golden Eagle, highest award (Kahili Award) from the State of Hawaii visitor industry, among other national awards.
A companion Warner Reprise soundtrack is available, produced by veteran music producer, Jim Ed Norman and kumu hula, Nani Lim Yap. Artists include the late great paniolo songster, Kindy Sproat; Michael Martin Murphey, and others. (see Music).
Paniolo O Hawai'i – Cowboys of the Far West DVD
Waikiki In the Wake of Dreams
USA Color, English. TRT 78 min. USA Color, Japanese. TRT 78 min.
"Waikiki's charming past is unfolded through re-enactments, film and TV clips…nostalgia set against the broader sweep of island history. Upbeat sorties takes us on a mournful elegiac tone for times, people and places lost." Variety This timeless documentary film chronicles the evolution of a small beachside community, from ancient spiritual haven to playground for Hawaii's royalty, to one of the world's most famous destinations. The first comprehensive chronicle of Waikiki's 500-year history is brought to life with vintage moving footage including some of the first cinematic clips shot by Thomas Edison. Hosted by one of Hawaii's iconic musicians, Keola Beamer Sr., scenes include special moments with Don Ho, Robert Cazimero, Mo Keale, Shirely Temple, real beachboys and beach girls who contributed to the sustaining the magic of this famous and beloved beach. Awards and honors include: Chicago Intercom Gold Plaque, New York Intl Film & Video Festival Doc Film Best Editing and Best Cinematography; the national premiere hosted in Washington D.C. at the National Geographic Society, the Hawaii premiere held on Waikiki beach, under a full moon to an audience of 5,000 viewers, setting the venue for what became Honolulu's, "Sunset on the Beach", the public movie screening venue in Waikiki.
Waikiki – In the Wake of Dreams DVD
Hawai'i's Fire Fighters
Hawaii's Fire Fighters – 2011 USA Color English TRT 56 mins.
Enjoy this unique tribute to Hawaii's fire fighters — a group of highly trained men and women, many of whom are native Hawaiian. HFD's story begins with Alexander Cartwright, Honolulu's first Fire Chief and father of American baseball, and a little known history ensues. From mid-19th century to present day, the film takes a behind-the-scenes look at the danger and dedication of these courageous men and women. Interviews with old timers, female fire fighters, and spouses shed rare insights into the job and the people.  Narrated by David "Kawika" Lyman. A companion cookbook, "Hawaii's Fire Fighters' Favorite Recipes" is available. (see Books).
"Hawaii's Fire Fighters Favorite Recipes" is available (see Books).
A Tribute to Hawaii's Fire Fighters *DVD
Papakolea – A Story of Hawaiian Land
USA Color, English. TRT 56 min
"In this fascinating and meticulously researched documentary, kupuna (elders) recall their fierce struggle to establish a native homestead, real estate now valued in the millions… where residents must maintain fifty percent Native Hawaiians blood quantum to retain their ninety-nine year leases."
Under constant threat of losing their land to corporate agriculture and federal government con-trol, Native Hawaiians in a small rocky corner of land called "Papakolea" petitioned Congress to protect their homesteads under the Hawaiian Homes Commission Act (1920). Their appeal, ini-tiated by the women of this small squatters community, struggled against poverty and racism to win the support of Franklin Delano Roosevelt and the U.S. Congress. The film introduces us to the elders who made this homestead possible, told in a straight forward story of their struggle and determination. Lee connects events of the past with the political and social conflicts of today's Native Hawaiians who continue to fight for rights to their lands. Edited by Sandi Guthrie, sound design by Kent Gibson, original music composed by Joseph Vitarelli. Directed and co-written by Edgy Lee, with Emmy Award winning writer, Saul Landau; and two-time Academy Award winning cinematographer, Haskell Wexler (Executive Producer).
Awards and honors include: the Corporation for Public Broadcasting Silver Award for Inde-pendent Programming, Chicago Intl Film Festival Merit Award Arts & Humanities, National Education Silver Apple; International CINE Golden Eagle.
A companion film viewers guide is available (see Books).
Papakolea – A Story of Hawaiian Land DVD
The Levi Report          
The Levi Report – USA Color, English TRT 60 Min.
The Levi Report is a one hour investigative report produced in and about Hawaii by Matt Levi, former Honolulu television journalist turned private investigator; and Edgy Lee, award winning  filmmaker.  The program covers controversial issues of local and national interest such as Internet crimes against children and the theft of native Hawaiian artifacts and the connection to meth trafficking. Hidden cameras take you behind the scenes, in drive alongs with US Marshals, and undercover to witness the capture of two child predators. This film is not for sale but can be made available for educational use.
Contact us for more information about this program >
Unprescribed – Prescription for Addiction
USA Color, English. TRT 58 mins.
This one hour doc film received a National 2015 Telly Award for its early bird's eye rview of the burgeoning American epidemic of prescription drug abuse, misuse, and poisoning — the #1 cause of accidental death in America. Former U.S. Attorney General Eric Holder introduces this compelling film, with appearances by former White House Drug Czar (Director of ONDCP) Mi-chael Botticelli, other national experts in the field of health care, drug intervention, international drug trafficking and law enforcement. Contains amazing undercover footage courtesy by federal law enforcement, U.S. Customs & Border Patrol, candid interviews with real addicts (some pro-fessional doctors, businessmen) and real families. Produced in 2015, just ahead of the current national awareness of the opioid epidemic across America.
Awards and honors include: the National 2015 Telly Award.
ICE – Hawaii's Crystal Meth Epidemic
USA Color, English. TRT 60 min.
This film reveals the fascinating history of methamphetamine and how addiction affects the community at large. Addiction is linked directly to increase in violent crime; child abuse, elder and spousal abuse; theft and rising insurance rates, social services, medical costs; and human costs that transcend the financial ruin that meth has had across the nation. Candid interviews with ice addicts, children of addicts, and young mothers in their 20s who have given birth to meth addicted infants, foster parents who adopt these babies and who share authentic stories in this very special presentation. When released, the film was seen on every network affiliate in an historical statewide simulcast broadcast commercial free.
A companion film viewers guide is available to encourage use of the film as a teaching tool for educators, community leaders, and families.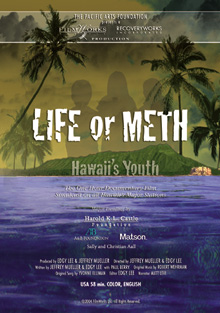 Life or Meth – Hawaii's Youth
USA Color, English. TRT 60 min.
This one hour sequel to the film "ICE", was also simulcast on all major television stations in the state of Hawaii. The two films were an example of how media can be utilized to educate the public and affect change. Included are unscripted interviews with teenage runaways in Waikiki, and children who choose a clean and sober life having grown up in homes where their parents and siblings were addicts. A former Miss Hawaii and other courageous people speak honestly and frankly in this remarkable portrait pf people fighting the throes of addic-tion. Life or Meth was one in a series of short drug education and prevention videos co-produced by Mueller & Lee for use in schools, the work place, city government and com-munities where addiction to methamphetamine has ranked highest in the nation.
Life or Meth – Hawaii's Youth DVD
It's Your Choice
It's Your Choice – 2007, USA Color, TRT 30 min.
This short drug education and prevention film features teens talking to teens, suitable for in class room viewing. Some students come from families pained by drug addiction, others are determined never to fall into the cycle of abuse that haunts all too many American communities.  Institutional Rates Apply to purchases by libraries, schools, and archives. 
For more information please contact us at store@PurePacific.tv.
It's Your Choice DVD
Elder Abuse – Breaking the Cycle of Shame
USA Color, English. TRT 30 min.
This short film features elders who have confronted abuse in their families — all behind closed doors, most often caused by drug addiction. This sensitive topic is an issue that is difficult to discuss openly but the problem is very real in many communities.
The pain and shame of suffering physical and mental abuse can remain an unspoken tragedy. Elders often fear retribution and embarrassment while battling financial hardship, theft, loss of life savings and property due to actions by their own family members. Experts provide general advice and suggestions as to where to seek help. Applicable to all states. Narrated by Frank B. Shaner.
Elder Abuse – Breaking the Cycle of Shame DVD